Talk about a World Cup Facebook game! While watching a football game with his friends, the 40-something year old Lebanese soccer player slams an ALMAZA beer bottle on the table and dives into the TV box. Zigzagging and dribbling his way through defenders, the player is supposed to reach the goal and score to get to the next level and accumulate the highest points possible.
To increase Almaza's brand awareness on social networks, Eastline Marketing's main focus is to reinforce mate-ship between friends while keeping Almaza as the consumer's first choice of beer. At the end of the day Almaza consumers not only take pride in drinking their local beer but they also take pride in their local beer culture as well which reflects in the ALMAZA's slogan "Haida Jawna. Haida Ne7na." ALMAZA who undoubtedly has the biggest market share when it comes to beer consumption, chose to leverage the 2010 World Cup event to introduce one of the most addicting soccer games on Facebook today. Moreover, to build up to the release of the game, Eastline Marketing created a Greeting Card application "TA3ABEER", mixing fun and daring Lebanese lines with inventive ALMAZA visuals.
The game which enables the user to choose his favorite World Cup team and take on swarming defenders and referees, adds a special twist with special moves that he can perform for extra points. The more the user collects cashew nuts and peas – yeah, nuts and peas – the more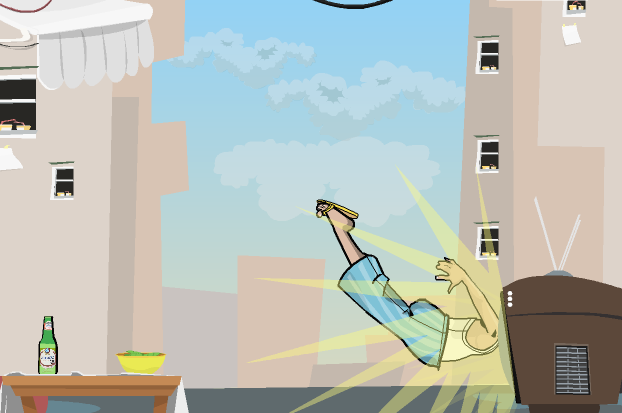 he has the ability to do special moves and brush off defenders and referees. The best part of the whole game is that players with the highest scores win a customized foosball table.
Logging over 30,000 registrations through the first couple of days, the ALMAZA IHTIYAT Game is set to become one of the biggest socially enabled soccer games on Facebook. I've been trying it out for a while and my highest score is somewhere around 75 thousand points.
Play the game here and try to beat my score?
https://www.eastlinemarketing.com/wp-content/uploads/2010/06/Almaza-1.bmp
413
622
Eastline Digital
http://www.eastlinemarketing.com/wp-content/uploads/2017/07/EastlineLogoBlack-300x68.png
Eastline Digital
2010-06-17 15:36:18
2016-11-21 13:55:26
The Almaza World Cup Game