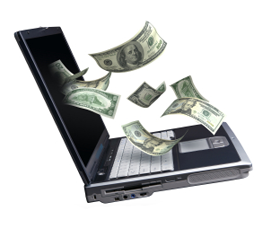 For many of us, the idea of just sitting back, writing down your thoughts and ideas, and making enough money to sustain yourself doing that is the ultimate dream. This is what many bloggers out there are doing, and quite successfully.
Some of you will simply be looking for a couple of hundred extra dollars a month to pay internet bills or otherwise, while others will be looking to make thousands of dollars a month doing something that they love and are passionate about.
Blogs like Lifehacker and Mashable have succeeded in profiting from having advertisers use their platform. They make millions of dollars per year through banner advertising. Certainly, that means they must be doing something right.
Potential advertisers can easily access an advertising page on these sites, giving them traffic information, statistics, as well as their media kits and rate cards. There is a lot to learn from big sites like those, using what we learn to our advantage in our own 'little' blogs.
In addition, it is particularly clever that they both use Social Media to promote their posts and articles, through their Facebook pages, and Twitter accounts. The more people that read their posts, and share them through Social Media networks, the more traffic they get, and thus, the more appealing to potential advertisers. That is also a lesson to learn.
This all brings up a few curious questions though, such as:
What makes a blog successful in your opinion?
Is it writing about a topic that interests you, or a topic that interests the majority of the people online, and then 'pretending' it interests you to get more readers and followers?
Share your views!
https://www.eastlinemarketing.com/wp-content/uploads/2011/06/make-money-blogging1-1.png
237
280
Eastline Digital
http://www.eastlinemarketing.com/wp-content/uploads/2017/07/EastlineLogoBlack-300x68.png
Eastline Digital
2011-06-09 14:52:56
2016-11-21 10:51:02
Blogs and Advertising