Steering away from Social Media in Politics, this post will discuss Social Media in Business. It is no secret that when it comes to advertising, Facebook is the go to place for promoting brands. A new Facebook trend on the scene now is 'pop up' stores (example: Roots), literally popping up all over Europe and Canada at the moment. In the real world, pop up stores are a new concept in marketing: Basically temporary shops (or bars) that 'pop up' in random places for a day or a few days offering a limited collection in efforts to build awareness of the product/brand.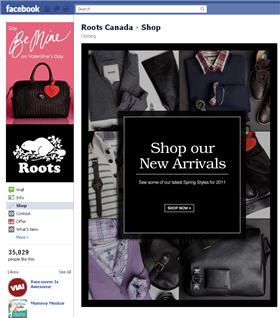 More and more retailers all over the world have been making use of Social Media in recent years, offering deals, and encouraging people to write reviews or to address complaints. The convenience of said pop up stores on Facebook is that it ultimately allows current and potential customers to purchase their items without having to leave the site itself (i.e. Facebook), potentially increasing revenue tremendously, while generating 'buzz'.
It takes time to calculate and analyze exactly how many more customers/clients such endeavors give to a company advertising in such ways, but as many retailers are claiming to have been seeing much positive results from using temporary 'pop up' stores on Facebook. They said they have seen an increase in the number of fans on their Facebook pages, more subscribers to their newsletter, and higher sales.
This has not been seen in the Middle East region however, not yet anyways. How successful do you think they will be for us in the region? As a culture that is new to shopping online (thanks to many years of war, political unrest, and no cargo getting into the country, or out for that matter), do you feel it might just be another way of regular advertising and brand awareness for most, rather than a good revenue generator?
https://www.eastlinemarketing.com/wp-content/uploads/2011/02/facebook_pop_up-1.jpg
318
280
Eastline Digital
http://www.eastlinemarketing.com/wp-content/uploads/2017/07/EastlineLogoBlack-300x68.png
Eastline Digital
2011-02-15 17:12:50
2016-11-21 10:55:28
Business in Social Media: Facebook Pop-Ups