Challenge
Eastline Marketing was defied by Fransabank, one of the leading Lebanese banks, providing a broad range of retail, commercial, corporate, investment and international banking services to local and international clients, to increase their online credit card registrations.
Solution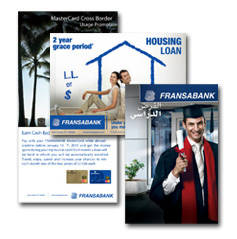 Eastline Marketing drafted a potential client's profile in order to push the advertising strategically using geo-targeting and demo-targeting.
Also, in order to ensure a high conversion rate, Eastline Marketing optimized the existing landing page containing the Application Form available on Fransabank's website.
Results
In order to measure the success of the campaign, Eastline Marketing implemented a complete tracking and analytics tool. Fransabank enjoyed an outstanding performance:
Increased Conversion (online registrations) by 300%