Objectives
Increase awareness and visibility of Salsa in the MENA region.
Create a direct channel of communication with consumers and engage them.
Promote the Spring/Summer collection of Salsa for both Men and Women.
Localize the global strategy.
Tactics
Revamp the existing Salsa MENA Facebook page.
Launch ongoing and burst Facebook campaigns.
Create engaging content and moderate the page.
Create an addictive memory based game hosted on Facebook: "Guess Your Friend".
Integrate viral features to the game.
Influence fans based on their interests gathered through intelligence.
Results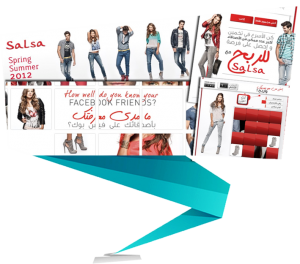 Period of time: May 2012 – present.
Recruited 51,200 fans on Salsa Mena's page.
5,577 players.
45,928 game plays.